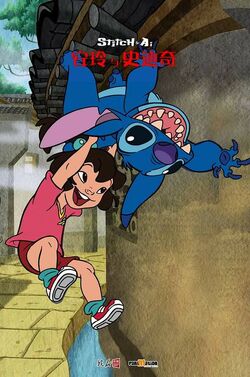 Stitch & Ai (安玲与史迪奇 "An Ling and Stitch") is a television series spin-off of Lilo & Stitch produced for Chinese audiences that premiered on March 27, 2017 on CCTV-1 and CCTV-14. It is the Lilo & Stitch franchise's third TV series, after the Western-animated Lilo & Stitch: The Series and the anime Stitch!.
Similar in premise to the anime series Stitch!, the series sees Stitch separated from Lilo after being captured by a gang of space criminals who had hoped to replicate Jumba's research. When Stitch escapes, he ends up re-entering Earth's atmosphere over China and ends up landing in the Huangshan Mountains where he befriends a young girl named Wang Ai Ling and becomes part of her family.
The series was produced in English before being dubbed in Mandarin for Chinese broadcast, as the show was produced with the assistance of American animators, including those who previously worked on Lilo & Stitch: The Series such as Tony Craig (one of The Series' executive producers). The original English version began airing on Disney Channel Asia on February 5, 2018 and will air all thirteen episodes of its only season so far throughout the month. There are currently no plans to release the series in Western countries.[1]
Trivia
This series marks the first time that experiments can mate and breed new experiments.
Ben Diskin and Jess Winfield reprise their roles as Stitch and Jumba respectively from the English dub of the Stitch! anime.
Videos
Gallery
References
↑ "Stitch & Ai debuts in South East Asia". ToonBarn (February 13, 2018). Retrieved on February 15, 2018.